Bent je een innovatieve tech start-up en op zoek naar wereldwijde kansen? Of bent je klaar om de Amerikaanse markt te veroveren met innovatieve en high-tech producten? Doe dan mee aan de collectieve vakbeursinzending naar de Consumer Electronics Show (CES) van 8 t/m 11 januari 2019.
Nederland presenteert zich op de CES met een Holland Paviljoen met ruimte voor start-ups. De beursdeelname richt zich op het versterken van de positie van Nederlandse start-ups  op de Amerikaanse markt.
Voor welke Start-ups?
Als start-up ben je actief in een van de vele technologiegebieden die vermeld staan op de CES website. Ieder jaar kiest beursorganisator Consumer Technology Association (CTA) daarbinnen een aantal thema's, die extra belicht worden in o.a de mediacampagnes die voorafgaand aan de CES op globale schaal worden uitgevoerd. Voor 2019 heeft de CTA voor de CES als specifieke thema's gekozen: Tech4Good, Sports Technology, Robotics & AI, Resilient Cities, Enterprise marketplace (B2B), E-commerce en Women in Tech. Daarnaast komen ook startups in aanmerking die technologieën vertegenwoordigen waarin Nederland op internationale schaal uitblinkt.
Hoe aan te melden? >> KLIK HIER <<
Kick-off Mercator Launch op woensdag 16 mei
Eindelijk een plek voor beginnende ondernemers op campus Heyendaal in Nijmegen
Woensdag 16 mei opent Mercator Launch haar deuren op de campus Heyendaal in Nijmegen, verzamelnaam voor het terrein waar Radboud Universiteit, Hogeschool van Arnhem en Nijmegen en Radboudumc zich bevinden.  De launch is een fysieke plek om te werken en andere ondernemers te ontmoeten en kunnen hun ideeën uitgroeien tot startups. De launch bevindt zich in het Universitair Bedrijvencentrum, Toernooiveld .
Mercator Launch: een plek en een programma
De wens bestond al enige tijd, zowel bij de initiatiefnemers van de kennisinstellingen, als bij studenten en PhD's. 'Bij Mercator Launch worden ideeën ondernemingen,' vertelt Rob Groenendaal, een van de initiatiefnemers van Mercator Launch en werkzaam bij de Radboud Universiteit.' Naast de fysieke plek om te werken en te ontmoeten, zijn er business coaches die 1-op-1 begeleiding bieden en vinden er workshops en events plaats op het gebied van ondernemerschap.'

Alle begin is moeilijk – pre-incubatie
Mercator Launch is er primair voor studenten, pas-afgestudeerden en medewerkers, zoals PhD's, van de drie kennisinstellingen. Ze richt zich op de zogenaamde 'pre-incubatie'-fase: de idee-fase van ondernemerschap. Groenendaal: 'Er is veel ondernemerspotentieel op de campus. Studenten hebben slimme oplossingen voor problemen, of een onderzoek leidt tot een bedrijfsidee. Maar juist in die beginfase is het vaak moeilijk om de juiste hulp te vinden bij het verder brengen van het idee. Wij bieden de inspiratie, informatie en support die nodig is voor het verder uitwerken van het idee en het verbeteren van je concept, product of aanpak.'
Ecosysteem voor start-ups rond Universiteit en Hogeschool
Als een idee uitmondt in een startup, helpen de business coaches van Mercator Launch de prille ondernemers met het zetten van de juiste vervolgstap. Justin Janssen, startersbegeleider bij de Hogeschool van Arnhem en Nijmegen: 'We verbinden ondernemers aan de juiste partner binnen het startup ecosysteem: een vervolgprogramma of netwerk in de regio bijvoorbeeld. We hebben een groot netwerk aan partners. Andersom is het voor deze partners interessant om samen te werken met deze jonge ondernemers en ze verder op weg te helpen.'

Officiële kick-off
Op woensdag 16 mei is de officiële opening van Mercator Launch. Bekijk het programma op de website van Mercator Launch.
Hoe laat? 13:30 tot 16:30 uur
Waar? Universitair Bedrijven Centrum (UBC) op campus Heyendaal in Nijmegen
Meer lezen: www.mercatorlaunch.nl
Green Alley Award honors Circular Economy Start-up Pioneers
Do you belong to the European startup avant-garde that fights for a world without waste? Help turn the linear into a circular economy with your green business idea and apply to the Green Alley Award, Europe's first startup prize promoting digital circular economy solutions, recycling innovations and ideas for waste prevention. Applications including a customized pitch deck must be sent until 1st July 2018 via an online form at www.green-alley-award.com/apply.

The Green Alley Award benefits
At the finals in Berlin, six startups will meet high-ranking expert practitioners in one-on-one mentoring sessions and pitch their idea to a great network of partners in the European circular economy and startup sector. The one and only Green Alley Award winner receives 25,000 euro in cash. Don't miss out on boosting your green business across Europe!
Check out the impressions from our 2017 finale on top
The Innovating Justice Challenge organized by HiiL Justice Accelerator will close on May 31st! Be quick to apply and succeed in improving the lives of millions of people through your innovation in the legal field.
Each year, hundreds of justice innovators from around the globe apply to the Innovating Justice Challenge to find support for their justice innovation. Find out more below on how our process works.
Opening of the call: 1 March 2018 | Closing of the call: 31 May 2018 at 23h59 CET

Apply at www.innovatingjustice.com/apply.
Offer HiiL Justice Accelerator
Apply by 31 May 2018 to receive seed funding, training and acceleration support, access to an international expert network and potential further investment opportunities.
What is considered a justice innovation? This page might help.
What do we look for?
(New) Ventures with a strong potential of delivering concrete justice solutions for many people, including micro, small and medium-sized businesses.
Innovative justice initiatives that are already making a difference and have the potential and ambition to scale internationally or to many more users.
Unique initiatives that are solving the most pressing justice problems for people, based on evidence and data, in particular family, land, crime or employment issues.
Ventures that are financially sustainable and have measurable impact.
Innovative initiatives within existing justice systems or public institutions, spearheaded by driven intrapreneurs that want to see things work differently.
Criteria: who can apply?
The founder and applicant should be 18 years of age or older.
The venture must be committed to providing access to justice underpinned by evidence showing justice needs.
The person(s) with whom we engage should be the founder or a co-founder of the organization and should be able to make key, high-level, and direction-shifting decisions (such as whether or not to take investments and who to partner with) on behalf of the entire organization.
We can only accept innovations to be incorporated with a bank account in the name of the legal entity by the time they receive our grant funding.
How we select winning justice innovations?
Scope (is it a justice innovation? is it solving pressing justice problem)
Impact
Uniqueness
Sustainability
Scalability
Team
Timeline

Applications are due by the end of the day on May 31, 2018 (the form will close at 23:59 Amsterdam time)
Several selection rounds, including local mentor and expert feedback, take place in June and July.
Between 40-50 startups, selected as semi-finalists, will be invited to pitch at local Boostcamps. This year's Boostcamps will take place in Johannesburg, Lagos, Nairobi, Kampala, Kyiv, and The Hague. In some cases, startups may pitch by Skype or be brought to the nearest Boostcamp. Additionally, these semi-finalists will be guided through a "market validation" process.
Between 15-20 startups will be selected for Acceleration.
>> Deadline 30 April 2018 <<
Taipei City government is hosting the 15-days " 2018 Global Startup Talents@Taipei Program" for international start-ups to create business opportunities and grow business in Taipei in Taiwan from June 4th till 18th, 2018.
The program offers:
● Flight tickets and accommodation for 1 person
● Top-notch co-working Space
● Visiting Taiwan leading enterprises
● Fund raising pitch opportunity
● One on one business matching event
● Demo booth at InnoVEX (Computex)
● Entrepreneur visa application
● Create your network and build partnerships
Apply now for the 2018 Global Startup Talents @Taipei
Check out what happened during the 2017 edition: http://futureward.com/gst-global-startup-talents-taipei/
PROGRAM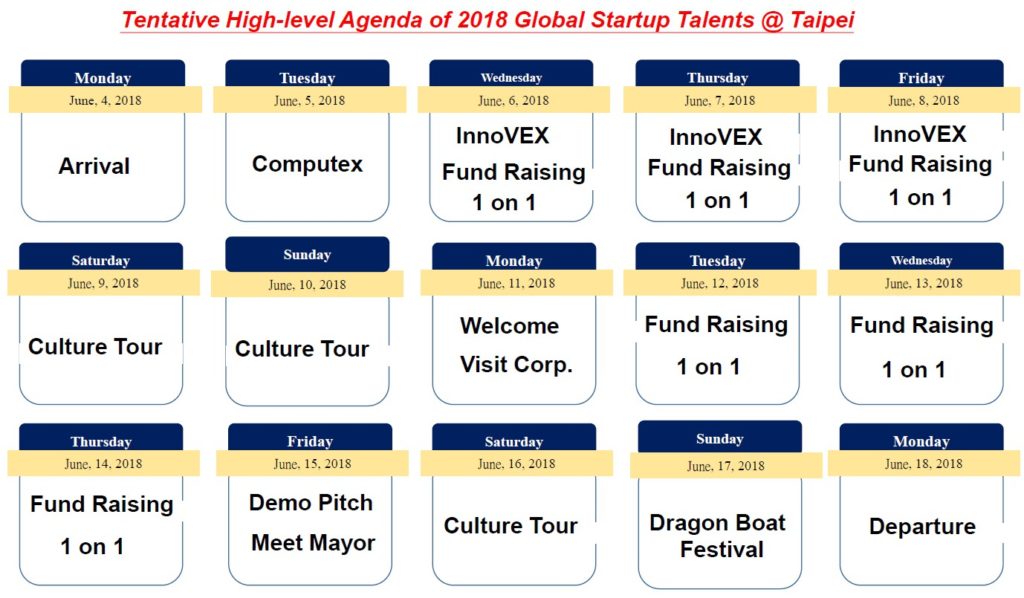 "Wil je op de beste plek in Azië zijn om een zaak op te starten, dan zit je goed in Hong Kong. Je vindt er state-of-the-art platformen voor je bedrijf en de perfecte startup vibes om te netwerken met dynamische ondernemers." Dat is de boodschap die Jayne Chan, Hoofd van Startmeup Hong Kong (www.startmeup.hk) meegaf aan de Nederlandse startups tijdens haar recent bezoek in mei.
Het moet gezegd: ondernemerschap is een actief woord in Hong Kong. Maandelijks worden tientallen seminaries en events georganiseerd om kennis te delen en te netwerken. Met alle nuttige troeven in de hand –  zij het aangepaste coworking stations, een pool van angels en VC's of steun via regeringsprogramma's – zijn er mogelijkheden zat in Hong Kong om je ideeën te concretiseren. Het is niet voor niets dat Forbes Hong Kong als nummer 1 voor startups heeft uitgeroepen.
DE STARTUP SCENE
Volgens de laatste cijfers van InvestHK (www.Investhk.gov.hk) steeg het aantal startups met 24% tussen 2015 en 2016 tot bijna 2000 en het aantal werknemers met 41% tot meer dan 5000. 62% van de oprichters van de startups zijn Hong Kong Chinezen; 38% is van buitenlandse origine, waarvan Nederland 3% voor haar rekening neemt. Het Hong Kong startup ecosysteem heeft zich definitief geprofileerd op internationaal niveau.
FUNDING
De financieringscontext in Hong Kong is sterk geëvolueerd. Naast de familiestichtingen zijn er heel wat VC-bedrijven actief. Ook de "HNWI's" , de 'High Net Worth Individuals', van Hong Kong staan steeds meer open om startups financieel te ondersteunen.
INFRASTRUCTURE
In 2016 telde Hong Kong meer dan 50 co-working spaces, incubators, accelerators en innovation labs, zowel kleine, plaatselijke structuren als mondiale spelers. De meesten zijn privaat. Twee grote trekpleisters voor innovatieve technologieën zijn 'Cyberport' en het 'Science and technology Parks'.  Cyberport (www.cyberport.hk)
Cyberport is een initiatief van de Hong Kong regering, een site waarin een community huist van ongeveer 900 technologiebedrijven. Cyberport heeft zich geëngageerd om startups en ondernemers samen te doen groeien in de digitale wereld door strategische partners en investoren met elkaar te verbinden. Er worden o.a. partnership programmes opgezet, entrepreneurship bootcamps geörganiseerd, angel pitch trainingen gegeven en er is bij voorbeeld ook een startup clinic.
Cyberport werkt vooral rond de volgende clusters: FinTech, E-Commerce, IoT/Wearables en Big Data/AI in het perspectief om van Hong Kong de eerste smart city van Azië te maken.
Science and Technology Parks (www.hkstp.org)
HKSTP is een non-profit organisatie opgericht in 2001 door de Hong Kong regering met als enig doel Hong Kong om te vormen tot een regionale hub voor innovatieve technologie om de groei van de economie en de werkgelegenheid in Hong Kong te bevorderen. Dit wetenschappelijk park groepeert meer dan 600 high-tech bedrijven, waarvan 72% lokale en 28% buitenlandse firma's zijn. Er werken bijna 13.000 mensen waarvan meer dan 9.000 in R&D activiteiten. De voornaamste clusters zijn: biomedische technologie, ICT, electronica, groene technologie, materialen en precisie engineering. De bedrijven kunnen o.a. genieten van hoog-technologische  research facilities en laboratoria, technologische ondersteuning, netwerking en samenwerking tussen de bedrijven. Andere diensten van het HKSTP zijn technology conferenties, business & investment matching events, stage-mogelijkheden, studentenprogramma's en een community outreach. HKSTP wil op die manier een steentje bijdragen tot een duurzamere wereld. Met de komst van de eerste internationale vestiging van het Karolinska Institute uit Stockholm, geeft het HKSTP duidelijk aan dat ze op hoog niveau meedraaien. Het Karolinska Institute is immers dé referentie in de wereld op vlak van stamcel-biologie en regeneratieve geneeskunde.
INTERNATIONALISERING
Ondernemers met internationale ambities konden zeker hun hart ophalen tijdens de vele activiteiten die de voorzitter van DIA georganiseerd heeft voor de startmeupHK-delegatie. Jayne Chan, aan het hoofd van StartmeupHK heeft een zeer goed beeld gekregen van het dynamisch startup ecosystem in Nederland. Heel opvallend bij het bezoek van het ECE (Erasmus Centre for Entrepreneurship) was de kruisbestuiving tussen de verschillende sectoren die de campus in huis heeft en de specifieke cursussen die ontwikkeld worden op Bachelor, Master en MBA niveau, en dit voor verschillende universiteiten in Nederland om het ondernemerschapstalent bij de studenten aan te scherpen.
De volgende dag werd dankzij de DIA-voorzitter, de delegatie uit Hong Kong uitgenodigd op een bespreking met ontbijt bij de CIC, de Cambridge Innovation Centre. Het CIC opende in September 2016 zijn deuren in Rotterdam als eerste internationale locatie van dit bedrijf met headquarters in Massachusets, US. Het CIC Rotterdam biedt premium kantoorruimte aan en organiseert ook regelmatig events om de innovation communities verder uit te bouwen en internationalisering te bevorderen.
Op een heel originele manier heeft de delegatie ook kennis gemaakt met de circulaire economie van Rotterdam. De DIA-voorzitter heeft de vertegenwoordigers van Invest Hong Kong samen met een tiental zakenmensen uitgenodigd voor een avondeten in de Alohabar, een restaurant in de wildwaterbaan van het voormalig subtropisch zwemparadijs Tropicana. Als onderdeel van Blue City (www.bluecity010.nl) is het Aloha restaurant een prachtig staaltje van ondernemerschap en circulariteit: de bitterballen op basis van in gerecycleerd koffiedik gekweekte oesterzwammen, geserveerd met koffiemayonaise zijn een ware delicatesse.
Naast al deze interessante bijeenkomsten in de Rotterdam-Delftse regio heeft de delegatie ook een bezoek gebracht aan grote spelers in de startup-wereld in Amsterdam. De eerste samenwerking met Startup Delta krijgt vorm en de bezoeken aan Startup Amsterdam, ACE Venture Lab en B-Building Business hebben een grote indruk nagelaten.
HONG KONG
Globalisering en wisselwerking tussen Azië en Europa is al lang geen science fiction meer. Wie alvast van de Hong Kong bedrijvigheid en het professionalisme van het Hong Kong startup ecosysteem wil proeven kan een bezoek brengen aan de events die in de nabije toekomst in Hong Kong georganiseerd worden.
De Hong Kong Fintech Week 23-27 Oktober 2017
De tweede editie van de Hong Kong Fintech Week wordt gehouden van 23 to 27 oktober 2017 in het Hong Kong Convention en Exhibition Centre. Deze fair stelt het bruisende Fintech ecosystem van Hong Kong tentoon met een mix van locale en internationale bedrijven en een overzicht van de ondersteunende programma's in de private en publieke sector. Zowel startups als incubators, accelerators en investoren die op zoek zijn naar opportuniteiten kunnen hier hun gading vinden.  De belangrijkste topics die besproken worden zijn blockchain, e-commerce, China Fintech, cyber security, Regtech, Insurtech en nog zo veel meer. Hong Kong heeft alle ingrdiënten om een globaal Fintech centrum te zijn.
De Startmeup Week in januari 2018
Hierover vind je later meer nieuws op de website.
Rise in Hong Kong van 8-11 juli 2018
Rise wordt sinds enkele jaren in Hong Kong georganiseerd door het team dat ook achter de Websummit in Europa zit. Hong Kong was een evidente keuze omdat het een van de hoogste aantallen startups per capita heeft en bovendien in het financieel centrum van Azië ligt.
In 2017, registreerde RISE meer dan 14.000 bezoekers van over 90 landen, met inbegrip van 400 investors, bijna 600 startups en 240 sprekers. Ook in juli 2018 zullen opnieuw mensen van de grootste bedrijven en de meest interessante startups van de wereld naar Hong Kong afreizen om hun verhalen en ervaringen te delen. Media van over de hele wereld, honderden investors en duizenden gasten zullen mekaar opnieuw ontmoeten op dit intussen legendarisch geworden event in Azië.
auteur: Marleen Walravens (InvestHK)
Are you a start-up or scale-up with a SMART URBAN MOBILITY solution?
Do you have ambition to grow and are looking to connect with investors, corporates and public authorities?
Opportunity
free ticket CapitalFest "Global challenges, Start-up solutions" on 27 September 2017 in Amsterdam, the Netherlands
chance to be selected for 1:1 matchmaking with international investors
attend invite-only break-out session organised by the European Commission's directorate-general for Mobility and Transport, with representatives from BMW Startup Garage, Mastercard and Rotterdam Mobility Lab as well as public authorities.
On 27 September 2017, CapitalFest brings together top-notch founders, investors and corporates in Amsterdam. CapitalFest is organised by Amsterdam Capital Week and StartupFestEurope, dedicated to creating connections between founders and investors.
The European Commission's directorate-general for Mobility and Transport (DG MOVE) works to accelerate the deployment of sustainable urban mobility solutions. To bridge the gap between supply and demand, the break-out session will bring together public and private organisations to see how we can create new partnerships.
With sponsorship from DG MOVE we can offer these tickets free of charge to you. Contact us for more information by email smarturbanmobility@jiip.eu or by phone +31 614716657 (Carlien Roodink).
This event is organised as part of the European Innovation Partnership on Smart Cities and Communities, action cluster Sustainable Urban Mobility
If you're an entrepreneur or manager of a company in the Netherlands seeking to innovate and/or expand internationally, this is a great opportunity for you! Participate at Taiwan Business Day 2017 – TBD17: 14/09/2017 in Utrecht – where you leave your business card in the 'lucky draw box' and at the end of TBD17 event, you'll know if you're one of the two lucky winners of a business trip to Taiwan at your convenience (within 9 months)!
YOUR CHANCE TO WIN 1 OF 2 BUSINESS EXPLORER TRIPS TO TAIWAN, VALUED AT €3.500
Each TAIWAN EXPLORER AWARD includes the soft-landing services summarized below. Some tailored made services can be added subject to the available resources matched with the winner's specific demands.
One (1) FREE Economy class ticket flight from Amsterdam to Taipei v.v. – offered by China Airlines* and EVA Air**, respectively.
Free stay in dormitories of Universities in Taichung and Kaohsiung offered Chaoyang and KUAS respectively
Free co-working or incubation space in Taichung, Kaohsiung and Taipei
Free participation in KS Soft-landing program in Kaohsiung
Free active matchmaking & mentoring by TGN-experts in Taiwan and Netherlands.
Free tailor made visiting program with TGN partners like SMEA Startup Taiwan, ITRI, TRIPLE and III.
This free ticket has rules and conditions which have to be adhered to and which are non-negotiable. Also possible airport taxes / surcharges need to be paid by the winner.
Register your FREE entrance ticket for Taiwan Business Day 2017 (before Sep 13nd, after that € 35,00)
Scientists and engineers are the creative force behind many vital new technologies. Every year, the European Patent Office hosts the European Inventor Award, which promotes the patent system by telling the stories of successful inventors, and shows how patents have helped them to secure value, raise investment and create jobs. This reflects positively on the inventors, of course, but also on those involved in supporting them: managers and mentors at incubators, accelerators and science parks.
The 12th annual European Inventor Award, hosted by the European Patent Office in Venice in 2016 was a wonderful celebration of innovation. This short film summarises the emotion of the trophy ceremony and the mission of the Award. The fifteen finalists are excellent ambassadors not just for innovation but for the patent system as a whole. In each of their films they explain their inventions as well as the benefits to society and the economy, frequently mentioning the role patents play in their business models. The media coverage generated by the European Patent Office (EPO) for the Award finalists is enormous, with over 2,400 reports in journals, blogs, websites and TV shows around the world. The Award not only promotes the benefits of innovation and the patent system, it also reflects positively on Science Parks working with finalists to help them create value from inventions and patents.
Previous finalists from the Netherlands have included:
We encourage all stakeholders to consider proposing inventors for the European Inventor Award. The EPO's criteria are high: they are looking for inventions of great social and/or economic benefit, and which have been granted European patents (at least one still in force). The application procedure is simple, free, and can be made online in minutes. With competition fierce (over 450 proposals last year for just 15 places!) Submit suggestions well ahead of the 16 October deadline. The media success of the Award in promoting innovation and patents (and hence our industry / profession) is dependent upon the quality of candidates – and we believe that we are very well placed to know who the best candidates could be.
Het EBN congres is dit jaar in Enghien-les-Bain nabij Parijs, van 5 t/m 7 juli. Het congres is, met 6-700 deelnemers, de grootste in zijn soort voor de professionals die werken bij ondersteunende organisaties in het innovatie ecosysteem zoals incubators, accelerators maar ook regionale ontwikkelingsmaatschappijen en science parken. Via DIA kunt u entreetickets bestellen voor een sterk gereduceerd tarief, ook als u geen lid bent van EBN. U kunt deze bestellen via DIA voorzitter pim@dutchincubator.nl.
Open Ecosystems for Innovation
Dit jaar draait het congres rond hoe we innovatie ecosystemen toegankelijker kunnen maken voor meer doelgroepen, zoals sociale ondernemers en ondernemers uit het buitenland. Naast interessante key notes en praktische sessies, zijn er ook workshops voor deelname aan Europese projecten en matchmaking sessies. Naast een professioneel programma is er ook een sociaal-cultureel programma dat net zo belangrijk is als u uw internationale netwerk wilt uitbreiden en onderhouden.
Dinsdagmiddag 4 juli – internationale matchmaking voor startups en scaleups. MEER INFO>>
Profiteer van bijna 60% korting via DIA – professionals at Dutch Incubators & Accelerators!
DutchBasecamp organiseert haar eerste bootcamp in Zuid-Afrika. Ontwikkel je potentie in samenwerking met getalenteerde Zuid-Afrikaanse ondernemers van 6 t/m 8 september in Kaapstad! Aanmelden voor de selectie kan tot 18 juni.
Zijn de start-ups/scale-ups in uw programma toe aan internationale partners?  Zoeken zij daarvoor partners die toegang kunnen bieden tot markten, middelen of technologieën? Neem dan deel aan de matching seminar op dinsdagmiddag 4 juli in Parijs. Incubators en Accelerators uit Europa, Taiwan, Canada, Brazilië en daarbuiten doen mee aan deze aantrekkelijke sessie – onderdeel van het EBN congress programma.
Eenvoudige deelname aan matching seminar
U kunt deelnemen door zich aan te melden met tenminste één bedrijf dat u vertegenwoordigd. Hiervoor kunt u bijgaand eenvoudige FORMULIER voor 30 juni invullen en mailen naar tgn@taiwanglobalization.net
Deelname is gratis voor mensen die reeds een ticket hebben voor het EBN congress (5 t/m 7 juli). Tickets voor het EBN congres kunt u bestellen via DIA (pim AT dutchincubator.nl) met 60% korting.
Voor elke startup is 3 minuten ingeruimd. Op basis hiervan wordt aanbod met vraag gematcht en meerdere gesprekken gearrangeerd, zodat u aan het einde van de sessie weet of er haalbare kansen zijn voor uw start-ups. U kunt de nieuwe relaties gedurende de daarop volgende dagen van het EBN congress, recepties en diners natuurlijk verder uitbouwen.
Organisatie
De organisatie is ter hand genomen door EBN in samenwerking met haar leden uit Taiwan. Het wordt ondersteund voor verschillende organisaties die internationale bruggen willen bouwen voor jonge ambitieuze ondernemers. Partners als TGN, SMEA, en incubator netwerken in Taiwan, Canada, Frankrijk en Italië. En natuurlijk DIA.