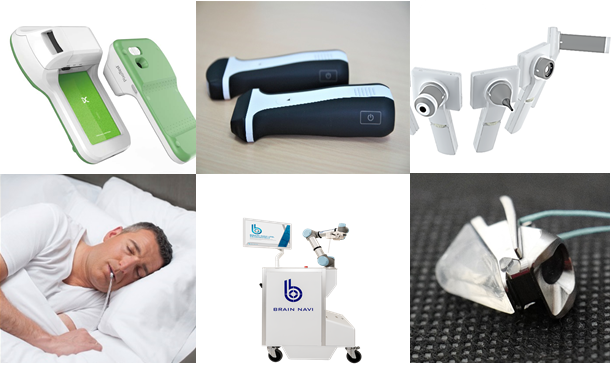 12 MedTech Startups present medical innovations @MEDICA (DE) on Nov. 12, 2018
The World Economic Forum (WEF) identifies Taiwan as one of four Super Innovators globally
TAIPEI, NOVEMBER 1, 2018 – 12 of the most promising startups from Taiwan will be presenting their products on Monday, November 12, at 10AM at Taiwan MedTech Networking @MEDICA event sponsored by COMDEK. With 223 companies participating in this year's MEDICA, the major global trade fair for the medical and health sector, super innovator Taiwan brings the second largest attendance. Since November 12 marks also the start of the Global Entrepreneurship Week and so it is only fitting that 12 ambitious Taiwanese MedTech entrepreneurs will come to the stage to showcase them to the European market.
Taiwanese companies play a crucial role in global supply chains and are not only acting as OEM's but also quality brands. While labor-intensive work have generally shifted to other countries, research & development have grown enormously. Innovation has become a leading focus both for government and businesses in Taiwan. WEF recently identified Taiwan as one of the four Super Innovators in the world, together with the USA, Germany and Switzerland. A robust infrastructure has been built up to foster innovation and entrepreneurship in education, research, incubation and internationalization. As an innovative nation, Taiwan has contributed a wealth of new products to solve challenges globally.
"As we have experienced ourselves, it is crucial to invest in R&D and innovate our products to stay competitive. Since the late nineties, we've been expanding globally to European and American markets. It wasn't easy, but we kept on going since we really believed that New Technology is supporting Better Life. We're happy to share our experience and network with the new generation of innovators from Taiwan."  Michael Kuo, G.M. COMDEK
Through cooperation and coordination with COMDEK, a leader in oximeters, 12 innovative MedTech startups will pitch their innovative medical solutions at MEDICA in Dusseldorf. These companies are introducing products in medical imaging, diagnostics, surgical guide, biomaterials, and other unique clinical solutions. For example, Taiwan Main Orthopaedics Biotechnology offers a smart surgical glasses system, Leltek introduces an innovative high-value ultrasound subsystem and Medimaging Integration Solution innovates a digital handheld 4-in-1 imaging system. Somnics innovates an iNAP sleep therapy system for sleep apnea. iXensor has won numerous awards for its diagnostics innovation for chronic disease and women health managements with smart phones. Puriblood brings an anti-coagulation leukocyte reduction filter and Wemed offers an intra-medullary endo-transilluminating device for orthopedic nail fixation. These companies are excited to build networks at MEDICA that will help bring their products into hospitals and homes for medical improvement.
We hope that when you are at MEDICA 2018 in Dusseldorf you join us on November 12 at 10 AM to be amazed with the 'up and coming' innovations from Taiwan.
###
Event details:
12/11/2018 10:00-12:00 CET, Congress Center Düsseldorf – Taiwan MedTech Networking @MEDICA – register for your personal one-day entry ticket.
Program & Registration at: www.taiwanglobalization.net/event/taiwan-medtech-networking-medica
Press Contact: Pim de Bokx, +31654.247.268, pim@taiwanglobalization.net
About COMDEK
COMDEK, from Taiwan, founded in 1985 and housing its own expert R&D team since 1994, is a global leading manufacturer of oximeters. Innovation is the spirit of COMDEK. As the only oximeter manufacturer in Taiwan, COMDEK is a key player in the global supply chain.  COMDEK's products include full lines of portable oximeters, EKG, NIBP, EtCO2 patient monitors for diagnostic market, and Palm, Traveler Oximeter, instant-thermometer, blood pressure measurement for home-care application. COMDEK looks forward to bringing to MEDICA 2018 not only their excellent line of products but also bright young MedTech Innovators from Taiwan to wow the Global audience. More on: www.comdek.com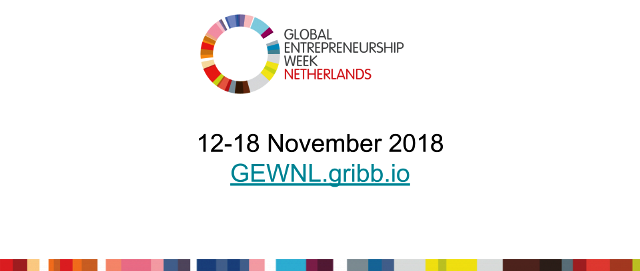 Elk jaar wordt er in de 3de week van november ondernemerschap in internationale context gevierd geduren de Global Entrepreneurship Week.
Duizenden evenementen en wedstijden in 170 landen insprireren miljoenen mensen te ondernemen en zich ter verbinden aan partners, mentoren en investeerders. Het wereldwijde event is geïnitieerd – en wordt nog steeds ondersteund – door de Kaufman Foundation, verder wordt het ondersteund door tientallen wereldleiders en meer dan 15.000 organisaties. In 2018 vind de GEW plaats van 12-18 november.
Programma Global Entrepreneurship Week in Nederland
Door het hele land worden er tientallen evenementen georganiseerd rond ondernemerschap. Een paar hoofdevents zijn:
14 November – Festival of Entrepreneurial Learning
15 November – Health Innovation Challenge
16 November – Dag van de Ondernemer
17 November – Entrepreneurial Research Day
Houd een oogje op de website van GEW Nederland, je kunt daar ook je eigen ondernemende event onder de aandacht brengen!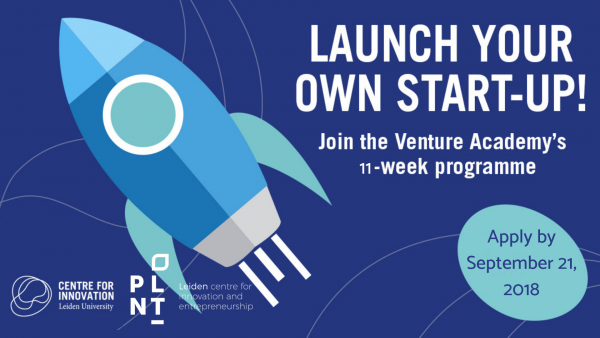 Signup before 21 September
On the 5th of October, the next edition of Venture Academy kicks off. Student entrepreneurs looking to solidify your business idea, this program is for you! The Venture Academy program is specifically designed to help your startup become ready for financial investment. With plenty of workshops, coaching and dedicated mentor-ship you get the support you need to really kickstart your business.
The Venture Academy is looking for:
Student entrepreneurs with the right attitude;
8 start-ups consisting of at least 3 team members;
One of these team members needs to study at Leiden University or Hogeschool Leiden;
Motivation to join 11 workshops once every week;
At least 1 working day per week to invest in your project.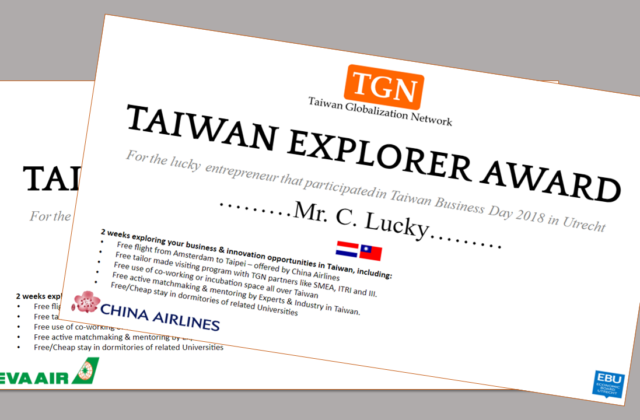 Dit is een geweldige kans! Een op maat gemaakte ontdekkingsreis om uit te vinden welke mogelijkheden, partners en technieken Taiwan jou en je bedrijf te bieden heeft. Gedurende twee weken maak je kennis met de mensen, instellingen en bedrijven die jou verder kunnen helpen met je R&D, innovatie, productie of verovering van de Aziatische markt. Als je de Taiwan Explorer Award op 2 oktober wint, gaan de deuren voor je open in het verre oosten!
Taiwan Explorer Award: trip+ticket
Ook dit jaar stelt TGN twee Taiwan Explorer Awards beschikbaar voor Nederlandse ondernemers/managers die deelnemen aan Taiwan Business Day 2018 in Utrecht. Je hoeft slechts je business card in een loterij box te doen om kans te maken, eenvoudiger kan niet. Naast een op maat gemaakt programma ontvangen de winnaars ook een vliegticket* beschikbaar gesteld door China Airlines en EVA Air.
TGN organiseert regelmatig handelsmissies naar Taiwan en voor Taiwanese bedrijven en instellingen naar Nederland en is vooral gespecialiseerd in jong innovatieve bedrijven. Naast deelnemen aan een handelsmissie biedt TGN ook de mogelijkheid om een individueel samengestelde missie te verzorgen, daarvoor werkt TGN samen met een netwerk aan partners om zo in elke sector waarde te kunnen bieden.
Unieke Individuele Innovatie & Business Trip
De winnaars van de Taiwan Explorer Award zullen door TGN geadviseerd worden over een waardevolle invulling van hun eigen trip die binnen 6 maanden wordt uitgevoerd. De award behelst de volgende onderdelen die lokaal in Taiwan geleverd worden door de partners van TGN:
Op maat gemaakt programma langs overheids- en kennisinstellingen als SMEA, ITRI en III,
Gebruik van co-working of incubation space,
Begeleiding en actieve matching met experts en bedrijven.
Gebruik van studentenhotels (soms tegen kleine vergoeding).
TGN Partners die de begeleiding verzorgen voor jou ontdekkingsreis
Noord:
Midden:
Zuid:
* De vliegtickets hebben hun eigen voorwaarden, check goed de voucher die je ontvangt.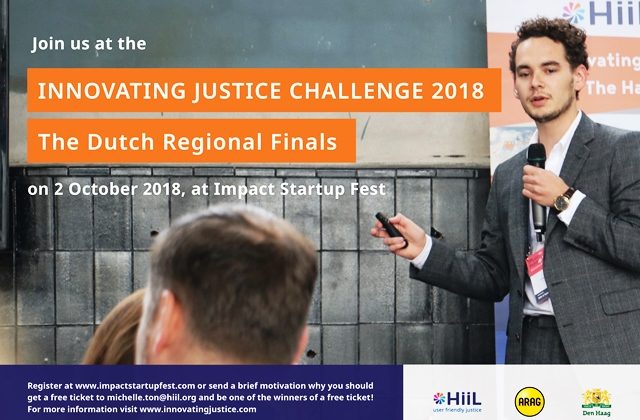 Ieder jaar organiseert het Justice Accelerator team vanm Hiil een Innovating Justice Challenge. Dit jaar organiseren zij deze Challenge op zéven verschillende plaatsen over de hele wereld, waaronder op 2 oktober in Den Haag. Tijdens deze regionale finales zullen door hen geselecteerde, veelbelovende start-ups hun innovaties presenteren aan het publiek. Ze zullen het in een pitch competitie tegen elkaar opnemen. De winnaar krijgt een certificaat en kan worden opgenomen in het wereldwijde HiiL Accelerator programma. (zie hier de finalisten van vorig jaar:https://innovatingjustice.com/2018_hja_finalists_announced/)
Nationale finale in Den Haag
De Nederlandse regionale finale wordt op 2 oktober gehouden van 11.30 tot 13.45 in de Fokker Terminal Den Haag tijdens de Impact Startup Fest. De regionale finale biedt niet alleen een unieke kans om in contact te komen met een grote groep professionals uit de juridische, technische en zakelijke sectors maar ook om de allerlaatste innovaties op het gebied van legal tech te zien. Kaarten zijn verkrijgbaar via https://impactstartupfest.com/
Download flyer >> Invitation Regional Final NL 2018 (1)

TGN (Taiwan Globalization Network) is the longtime partner of DIA organizing the yearly 'Taiwan Business Day' which supports the information exchange on international innovation and business opportunities between Taiwan and The Netherlands. TGN now launches Tiger Accelerator – an intensive soft landing program exclusively for Asian scale-ups expanding to Europe. Tiger Accelerator has setup hubs in Taipei and Utrecht to facilitate these ambitious entrepreneurs.
The first program offered by Tiger Accelerator is the 'Tiger Explorer Program' is the ideal program for companies having their first try at tapping into the European market. It is a beautiful mix of information gathering, meeting potential partners and exposure. The best combination of bootcamp, trade show and trade mission is organized in the heart of The Netherlands in the beautiful City of Utrecht. On top of that, 2 weeks coaching and guidance is included; this is soft-landing in an accelerated fashion!
Key advantages of 2 week Explorer Program
Explore European business opportunities
Learn about European business culture and regulation
Have access to partners and investors
Access European market through Netherlands gateway
Focus: Healthy Living, Healthy Aging & Medtech
The Netherlands is one of the most innovative and entrepreneurial nations in the world, hosting a thriving entrepreneurial ecosystem. In cooperation with partners from Europe and Taiwan, TGN has developed a new type of so called 'soft-landing' programs aiming to support international expansion of Taiwanese companies. If you are one of the ambitious Taiwanese entrepreneurs considering Europe as your next market, this is the opportunity for you. The coming program will focus on innovative and creative solutions – product or service – that have an impact on Healthy City Life, Healthy Aging and Medical Technologies.

download detailed program HERE (program will be updated regularly)
Intensive Bootcamp, lot of exposure in Europe
Already on the first full day of the program you'll be exposed to business people from The Netherlands during Taiwan Business Day (TBD18). Dutch companies and entrepreneurs visit TBD because they want to do business in Taiwan and/or with Taiwanese partners. Already on this first day, selected companies can Pitch on stage. The following day you'll participate in Start-up Fest Europe, with an active workshop program, exhibition of innovations and match-making. After these two days of exposure, you'll go into a deep dive of the European culture and way of doing business during the Lean Scale-up Bootcamp EU. By the end of week you'll have a plan how to make you product or service fit on the European market. The following week you'll be able to turn this into a business model and work with partners and investors on the feasibility of your ambition. After Investor Day, we'll help you evaluate and improve your approach. After your return, we'll keep guiding you for another 2 weeks on making your entry to the European market a reality.
Show you interest by pre-registering here: mail to us
More on Tiger Accelerator? go to www.tigeraccelerator.com / download presentation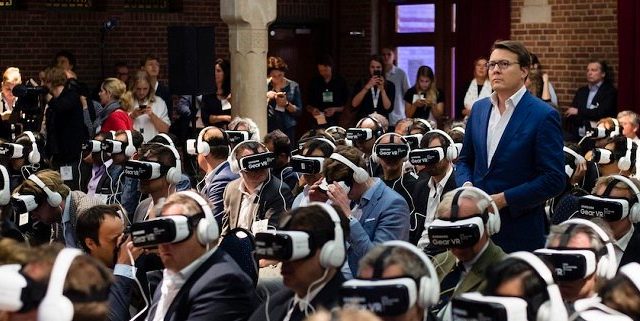 Bent je een innovatieve tech start-up en op zoek naar wereldwijde kansen? Of bent je klaar om de Amerikaanse markt te veroveren met innovatieve en high-tech producten? Doe dan mee aan de collectieve vakbeursinzending naar de Consumer Electronics Show (CES) van 8 t/m 11 januari 2019.
Nederland presenteert zich op de CES met een Holland Paviljoen met ruimte voor start-ups. De beursdeelname richt zich op het versterken van de positie van Nederlandse start-ups  op de Amerikaanse markt.
Voor welke Start-ups?
Als start-up ben je actief in een van de vele technologiegebieden die vermeld staan op de CES website. Ieder jaar kiest beursorganisator Consumer Technology Association (CTA) daarbinnen een aantal thema's, die extra belicht worden in o.a de mediacampagnes die voorafgaand aan de CES op globale schaal worden uitgevoerd. Voor 2019 heeft de CTA voor de CES als specifieke thema's gekozen: Tech4Good, Sports Technology, Robotics & AI, Resilient Cities, Enterprise marketplace (B2B), E-commerce en Women in Tech. Daarnaast komen ook startups in aanmerking die technologieën vertegenwoordigen waarin Nederland op internationale schaal uitblinkt.
Hoe aan te melden? >> KLIK HIER <<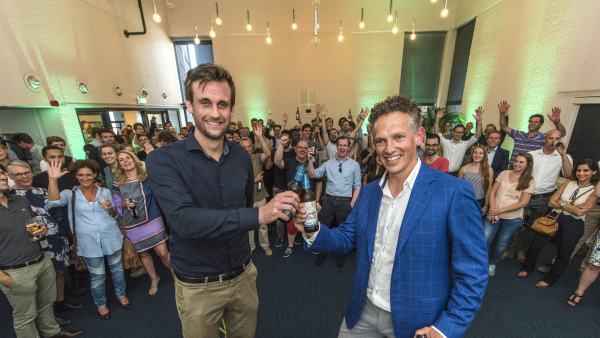 Leiden | HUBspot gaat vanaf vandaag verder als PLNT, Leiden Centre for Innovation and Entrepreneurship. De naamswijziging en de vernieuwde uitstraling sluiten aan bij de volgende fase van het centrum. Sinds 1 maart staat PLNT onder leiding van directeur ondernemerschap Bastiaan de Roo en directeur innovatie Sjoerd Louwaars. "Met de nieuwe naam leggen we een nadrukkelijkere associatie met groei en verandering alsmede ondernemerschap en productie" aldus  de Roo.
De afgelopen 2 jaar heeft het pre-incubator centrum zich al stevig geworteld en zet het zich in om innovatie en ondernemerschap aan te jagen in Leiden en regio. Het centrum biedt hiervoor vitale grondstoffen, zoals een actieve community, divers netwerk, actuele kennis en flexibele ruimtes en werkplekken. PLNT koppelt talent aan Lees verder op plnt.nl >>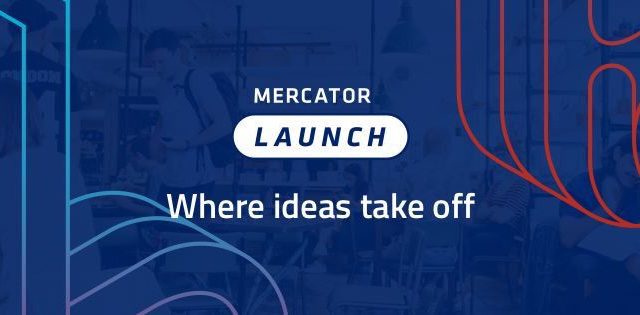 Kick-off Mercator Launch op woensdag 16 mei
Eindelijk een plek voor beginnende ondernemers op campus Heyendaal in Nijmegen
Woensdag 16 mei opent Mercator Launch haar deuren op de campus Heyendaal in Nijmegen, verzamelnaam voor het terrein waar Radboud Universiteit, Hogeschool van Arnhem en Nijmegen en Radboudumc zich bevinden.  De launch is een fysieke plek om te werken en andere ondernemers te ontmoeten en kunnen hun ideeën uitgroeien tot startups. De launch bevindt zich in het Universitair Bedrijvencentrum, Toernooiveld .
Mercator Launch: een plek en een programma
De wens bestond al enige tijd, zowel bij de initiatiefnemers van de kennisinstellingen, als bij studenten en PhD's. 'Bij Mercator Launch worden ideeën ondernemingen,' vertelt Rob Groenendaal, een van de initiatiefnemers van Mercator Launch en werkzaam bij de Radboud Universiteit.' Naast de fysieke plek om te werken en te ontmoeten, zijn er business coaches die 1-op-1 begeleiding bieden en vinden er workshops en events plaats op het gebied van ondernemerschap.'

Alle begin is moeilijk – pre-incubatie
Mercator Launch is er primair voor studenten, pas-afgestudeerden en medewerkers, zoals PhD's, van de drie kennisinstellingen. Ze richt zich op de zogenaamde 'pre-incubatie'-fase: de idee-fase van ondernemerschap. Groenendaal: 'Er is veel ondernemerspotentieel op de campus. Studenten hebben slimme oplossingen voor problemen, of een onderzoek leidt tot een bedrijfsidee. Maar juist in die beginfase is het vaak moeilijk om de juiste hulp te vinden bij het verder brengen van het idee. Wij bieden de inspiratie, informatie en support die nodig is voor het verder uitwerken van het idee en het verbeteren van je concept, product of aanpak.'
Ecosysteem voor start-ups rond Universiteit en Hogeschool
Als een idee uitmondt in een startup, helpen de business coaches van Mercator Launch de prille ondernemers met het zetten van de juiste vervolgstap. Justin Janssen, startersbegeleider bij de Hogeschool van Arnhem en Nijmegen: 'We verbinden ondernemers aan de juiste partner binnen het startup ecosysteem: een vervolgprogramma of netwerk in de regio bijvoorbeeld. We hebben een groot netwerk aan partners. Andersom is het voor deze partners interessant om samen te werken met deze jonge ondernemers en ze verder op weg te helpen.'

Officiële kick-off
Op woensdag 16 mei is de officiële opening van Mercator Launch. Bekijk het programma op de website van Mercator Launch.
Hoe laat? 13:30 tot 16:30 uur
Waar? Universitair Bedrijven Centrum (UBC) op campus Heyendaal in Nijmegen
Meer lezen: www.mercatorlaunch.nl
Green Alley Award honors Circular Economy Start-up Pioneers
Do you belong to the European startup avant-garde that fights for a world without waste? Help turn the linear into a circular economy with your green business idea and apply to the Green Alley Award, Europe's first startup prize promoting digital circular economy solutions, recycling innovations and ideas for waste prevention. Applications including a customized pitch deck must be sent until 1st July 2018 via an online form at www.green-alley-award.com/apply.

The Green Alley Award benefits
At the finals in Berlin, six startups will meet high-ranking expert practitioners in one-on-one mentoring sessions and pitch their idea to a great network of partners in the European circular economy and startup sector. The one and only Green Alley Award winner receives 25,000 euro in cash. Don't miss out on boosting your green business across Europe!
Check out the impressions from our 2017 finale on top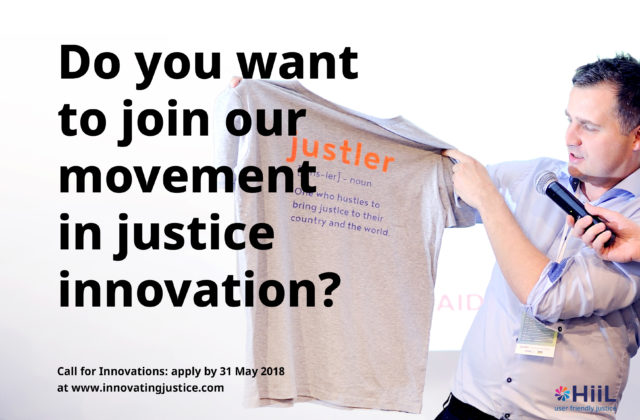 The Innovating Justice Challenge organized by HiiL Justice Accelerator will close on May 31st! Be quick to apply and succeed in improving the lives of millions of people through your innovation in the legal field.
Each year, hundreds of justice innovators from around the globe apply to the Innovating Justice Challenge to find support for their justice innovation. Find out more below on how our process works.
Opening of the call: 1 March 2018 | Closing of the call: 31 May 2018 at 23h59 CET

Apply at www.innovatingjustice.com/apply.
Offer HiiL Justice Accelerator
Apply by 31 May 2018 to receive seed funding, training and acceleration support, access to an international expert network and potential further investment opportunities.
What is considered a justice innovation? This page might help.
What do we look for?
(New) Ventures with a strong potential of delivering concrete justice solutions for many people, including micro, small and medium-sized businesses.
Innovative justice initiatives that are already making a difference and have the potential and ambition to scale internationally or to many more users.
Unique initiatives that are solving the most pressing justice problems for people, based on evidence and data, in particular family, land, crime or employment issues.
Ventures that are financially sustainable and have measurable impact.
Innovative initiatives within existing justice systems or public institutions, spearheaded by driven intrapreneurs that want to see things work differently.
Criteria: who can apply?
The founder and applicant should be 18 years of age or older.
The venture must be committed to providing access to justice underpinned by evidence showing justice needs.
The person(s) with whom we engage should be the founder or a co-founder of the organization and should be able to make key, high-level, and direction-shifting decisions (such as whether or not to take investments and who to partner with) on behalf of the entire organization.
We can only accept innovations to be incorporated with a bank account in the name of the legal entity by the time they receive our grant funding.
How we select winning justice innovations?
Scope (is it a justice innovation? is it solving pressing justice problem)
Impact
Uniqueness
Sustainability
Scalability
Team
Timeline

Applications are due by the end of the day on May 31, 2018 (the form will close at 23:59 Amsterdam time)
Several selection rounds, including local mentor and expert feedback, take place in June and July.
Between 40-50 startups, selected as semi-finalists, will be invited to pitch at local Boostcamps. This year's Boostcamps will take place in Johannesburg, Lagos, Nairobi, Kampala, Kyiv, and The Hague. In some cases, startups may pitch by Skype or be brought to the nearest Boostcamp. Additionally, these semi-finalists will be guided through a "market validation" process.
Between 15-20 startups will be selected for Acceleration.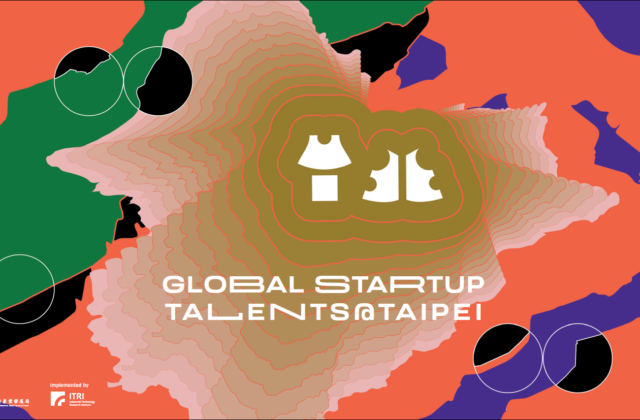 >> Deadline 30 April 2018 <<
Taipei City government is hosting the 15-days " 2018 Global Startup Talents@Taipei Program" for international start-ups to create business opportunities and grow business in Taipei in Taiwan from June 4th till 18th, 2018.
The program offers:
● Flight tickets and accommodation for 1 person
● Top-notch co-working Space
● Visiting Taiwan leading enterprises
● Fund raising pitch opportunity
● One on one business matching event
● Demo booth at InnoVEX (Computex)
● Entrepreneur visa application
● Create your network and build partnerships
Apply now for the 2018 Global Startup Talents @Taipei
Check out what happened during the 2017 edition: http://futureward.com/gst-global-startup-talents-taipei/
PROGRAM