Indonesian and Dutch Discuss Sustainable Incubators for Sustainable Development
Last week a webinar was organised for incubators and accelerators from Indonesia and Netherlands to meet and discuss the further development of the start-up ecosystem in Indonesia. The webinar was introduced by H.E. Mayerfas, Ambassador of Indonesia in The Netherlands and H.E. Lambert Grijns, Ambassador of The Netherlands in Indonesia both indicating the importance of incubators for start-ups. Not just because of the growth and innovation of the economy but also for solving society's problems and limiting human impact on the environment. This is considered especially relevant in time policies converge to realising on the UN's sustainable development goals.
The world witnesses the digital creative economy's ability to combine technology, innovation, and entrepreneurship to promote economic growth. In the context COVID-19 pandemic, digital creative economy provide potential to support the global economic recovery, including to achieve sustainable development goals.
To reap the potential, countries should support and facilitate higher creative and digital entrepreneurship levels, including to create sustainable incubators to help start-ups in terms of business model readiness: through mentoring and advisory programs, technological facilities and advice, network and linkages, co-working space and initial growth funds.
Indonesia continues to create an open, strong and healthy digital business environment, to allow young, enthusiastic, and creative entrepreneurs to be innovative and receive economic benefits.
Meanwhile, Netherlands is known as home to a vibrant digital creative economy ecosystem with leading innovation hubs, connecting private sectors with world-class incubators and research and development facilities.
Indonesia-Netherlands cooperation for impact on SDG's by start-ups
In the spirit of Indonesia-Netherlands partnership, Indonesian Embassy in The Hague hosted the Webinar "Sustainable Incubators for Sustainable Development" on 8 April 2021, in collaboration with PUM Senior Experts Netherlands, Dutch Incubation Association (DIA), and Association of Indonesian Business Incubators (AIBI).
The webinar presented four speakers both from Indonesia and the Netherlands: Asril Fitri Syamas (AIBI), Pim de Bokx (DIA), Cees Schoenmakers (PUM), and David Soukhasing (ANGIN) along with testimonials and comments from their respective collaborators.
Attended by 106 participants from governments, incubators, accelerators, start-ups and universities, it is expected that the webinar can be the starting point for a strategic networking between the digital creative economy actors in Indonesia and The Netherlands.
The webinar also aimed to bring perspectives and awareness on the importance of sustainable incubators to the ecosystems and its contributions to the fulfilment of sustainable development goals.
To watch the recording of the webinar, please visit https://youtu.be/x6xzoRSzBwc.
To view the presentation, please visit the shared folder
Further inputs and questions:
Economic Department Embassy: bideko@indonesia.nl
DIA, Pim de Bokx: pim@dutchincubator.nl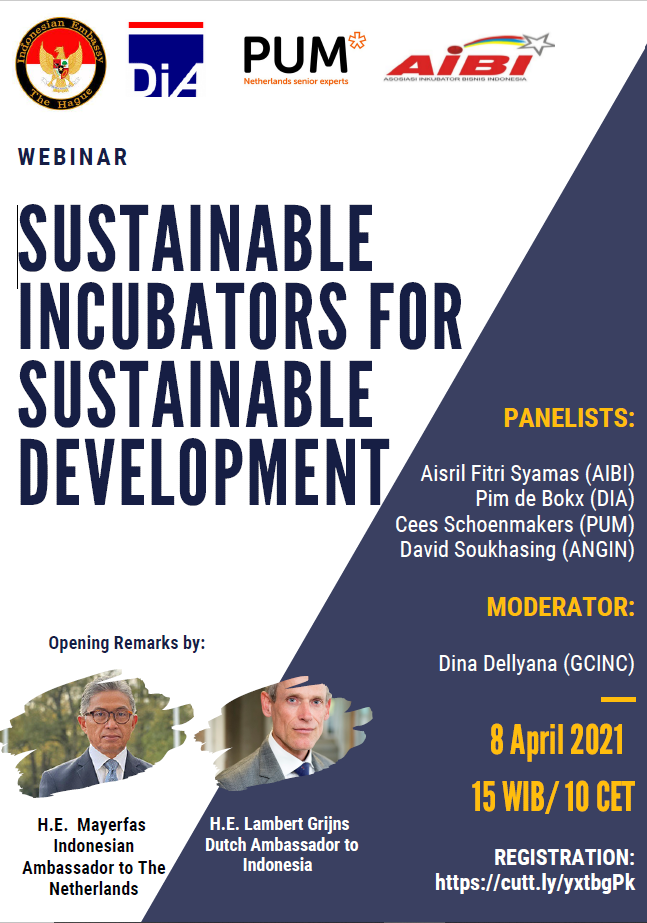 source: website Indonesian Embassy The Netherlands